How to find your lost inspiration
You may find it difficult to explain what inspiration really is. It is really so, because it is an abstract meaning, which manifests your creativity, skills and lover for life. It combines a lot of different factors. First of all, it is something that motivates you to do something. For example, you noticed a wonderful landscape and it motivated you to write an amazing poem. In most cases, inspiration is tightly connected to your mood. Sometimes you may find yourself sad and depressed and in such moments you understand that your inspiration is lost.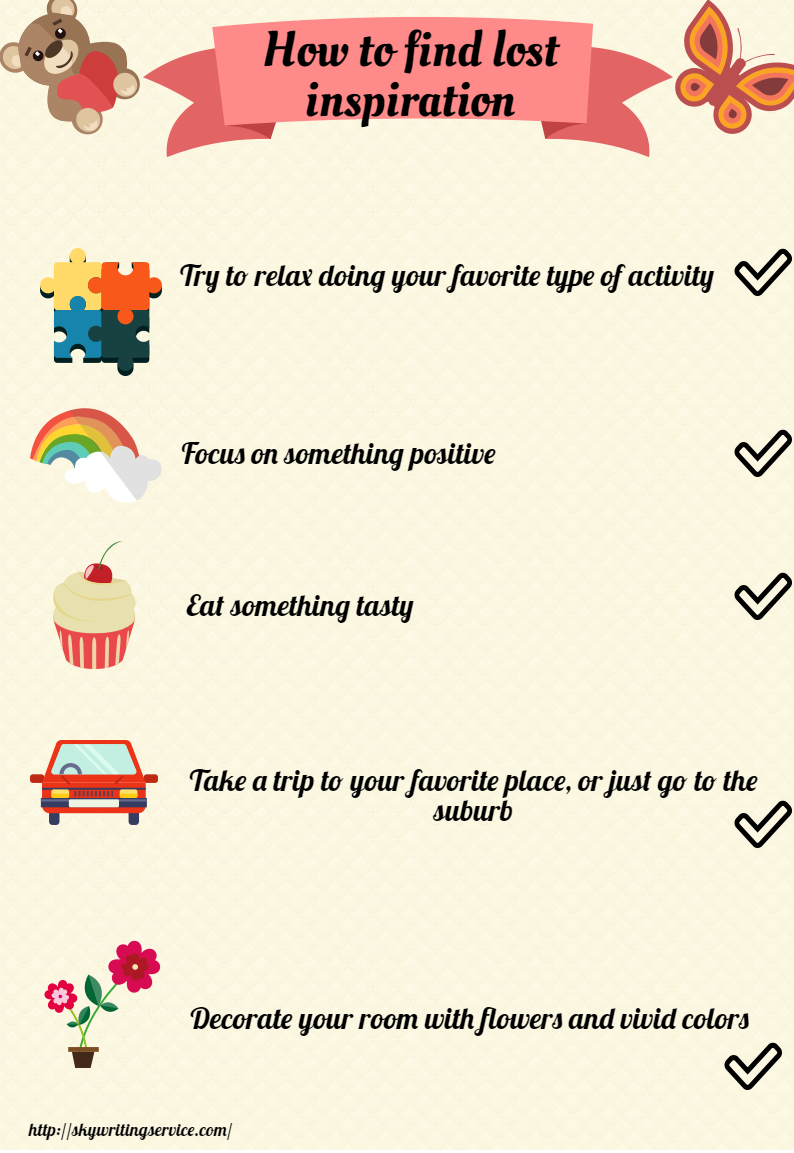 Here are some tips that will help you to regain your lost inspiration or to find a new one:
Try to relax, doing your favorite activity. Not necessarily it should be reading a book. You may just take a cup of coffee in your favorite café, or take a walk in the park.

Try to think about the things that used to inspire you. It may be anything- starting from the landscape outdoors, up to the design of the candle you once saw.

Try to focus on something positive. It may be something that makes you laugh. Funny pictures, videos or even games. Just spends some time doing these activities.

Go to the beach. Even if it is cold outside, the sight of water and waves will make you calm and you will have an opportunity to put your thoughts in order.

Listen to the silence and enjoy the moments of being alone for some time. It will help you to concentrate and think in the right way.

Think over the interesting ideas you once wanted to bring to life and try to illustrate them in your mind. What are the positive aspects of these ideas? What are the negative ones?

Try to imagine yourself in your favorite place (city, location, etc.) and think of the best events that happened in your life. Your imagination can bring your inspiration back.

Eat something tasty. It will improve your mood and open your desire for new impressions and life.

Take a trip, hike tour or simply visit your friends or relatives in the suburb. Enjoy fresh air and long walks. It will freshen your thoughts and maybe some new ideas will come unexpectedly.

 Decorate your room with flowers and vivid pictures. Invent some crazy items for décor. It will help you to develop the inspiration that left you. Do not be afraid of your ideas and do not be shy. Feel free to show the things your imagination invented.
Some scholars say that the loss of inspiration mainly depends on your mental condition. For example, stress, bad mood, depression or nervous shock can negatively influence not only your inspiration but the whole condition of the organism.
Here are some tips that will help you to avoid all these negative conditions:
Do not take negative situation close to your heart. It doesn't mean you should be skeptical. Just try to avoid extra stress.

Think about the positive resolution of any conflict.

Do not let your anger spoil your mood.

Always try to count to 10 before telling something offensive.

Try to solve any problem in a peaceful way, being positive and elated.
As you see, there are quite a lot of factors that can influence the loss of your inspiration. However, you should always remember that you always have an opportunity to regain your inspiration. Just follow the tips we have enumerated above and you will feel much better and happier!