Gastronomy, is a Greek word. The irony, however, lies in the fact that the history of Greek cuisine shows the lack of gourmet dishes in Greek recipes, with the exception of antiquity, during the Byzantine period and the end of the 20th century, when the Greek cuisine and the Greek gastronomy have undergone radical changes.
Until very recent time Greek cuisine was mostly domestic. Greek Restaurants were divided into several categories: barbecue, fish taverns, some specialty eateries Patz soups, hash, and always popular tavern area, usually owned by one family, where traditional Greek dishes, according to Wikipedia are the main.
In the late 1980s, -1990h, the new generation of Greeks came back from studying and living abroad, with changes in tastes, demanding a more refined cuisine. At that time, there appeared a new generation of chefs who have seen their profession as a career, and not as a means for survival. Newly opened EU market filled Greek supermarkets with new products, having inspired the chefs to experiment.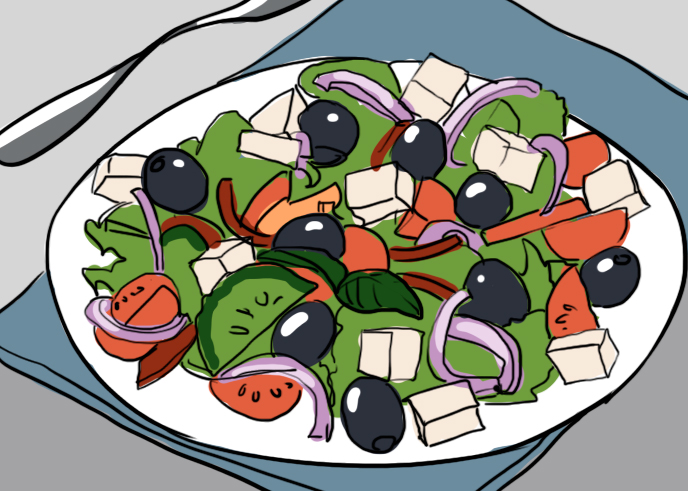 Greek cuisine is based on seasonality, simplicity, reliability, and health utility. The superiority of certain Greek products grown in an ideal Mediterranean climate, is manifested in the strengthening of respect for the tastes of traditional Greek cuisine.
The roots of Greek cuisine recipes go back to antiquity. Greek olive oil, Greek olives (production and cultivation of which remains largely the same over the centuries), Greek honey, meat from hunting (mainly birds, rabbits, and hares), greens, vegetables, countless legumes (beans, peas, chickpeas, lentils), fish and seafood, snails, nuts, sesame seeds, whole grains, cheese made from goat and sheep milk - these are the main products on the Greek table. Greek cuisine remains unchanged in its values, but at the same time flexible, which allows it to change over time, without losing its timeless spirit.
Greek cooking is simple and useful. Although there are certain dishes that take time, such as: musakas and pastitso. In Greek cuisine there are a few complicated sauces and long culinary preparations.The basic palette of Greek flavors are: trio - garlic, oregano, lemon juice, tomato sauce, flavored with cinnamon and spices, Greek honey, as well as various sweet and savory dishes. Also. There is a combination of citrus and fennel and other things that enrich each food intake with required amount of antioxidants, minerals and other nutrients.
In the traditional Greek food, which is essentially a traditional Mediterranean diet, vegetables and legumes appear in many dishes. Most main dishes with vegetables provide the daily recommended amount of fiber and nutrients in the food. In combination with whole grain bread and cheese (protein) Greek dishes are nutritious and healthy.
Mandatory preparation of main dishes from vegetables originated from the traditions of Lent in Greece, which dictates the rejection of all animal products for about half the year. Today Greeks are ardent meat-eaters, but traditionally, the meat was limited and was prepared as a holiday dinner or in combination with dishes based on vegetables, cooked in a pan or oven.
Extra Virgin (exceptionally virgin) Greek olive oil enriches the majority of Greek dishes, and Greeks consume it in large quantities (more than 20 liters per person per year). Extra Virgin Greek Olive Oil is the basis in the preparation of food in Greece, and the basic sauce, which fills all kinds of salads and many cooked dishes.
That is why, today, when the search for the ingredients, or high-quality products, and, in many ways, a return to the natural taste is the main focus of the cooking around the world, high-quality and healthy Greek cuisine is one of Greece's major assets, evolving incredibly fast, and becoming a magnet for the guests of this wonderful country.
We truly hope that this article was useful and inspiring, but in case if you have any problems with essay writing, you are welcome to make an order on our site.