20 Tips How To Feel Happier At Work
It is great when your work is also your favorite occupation, or even your hobby. However, even the most favorite job may turn into a routine. You may simply become tired of the same things happening every day at work, that you may feel depressed and sad. In order to feel happier at work, and to avoid depression, it is necessary to follow some aspects, which may appear to be helpful for you. It is a well-known fact, that happy workers work better and their productivity is higher, in comparison to unhappy workers.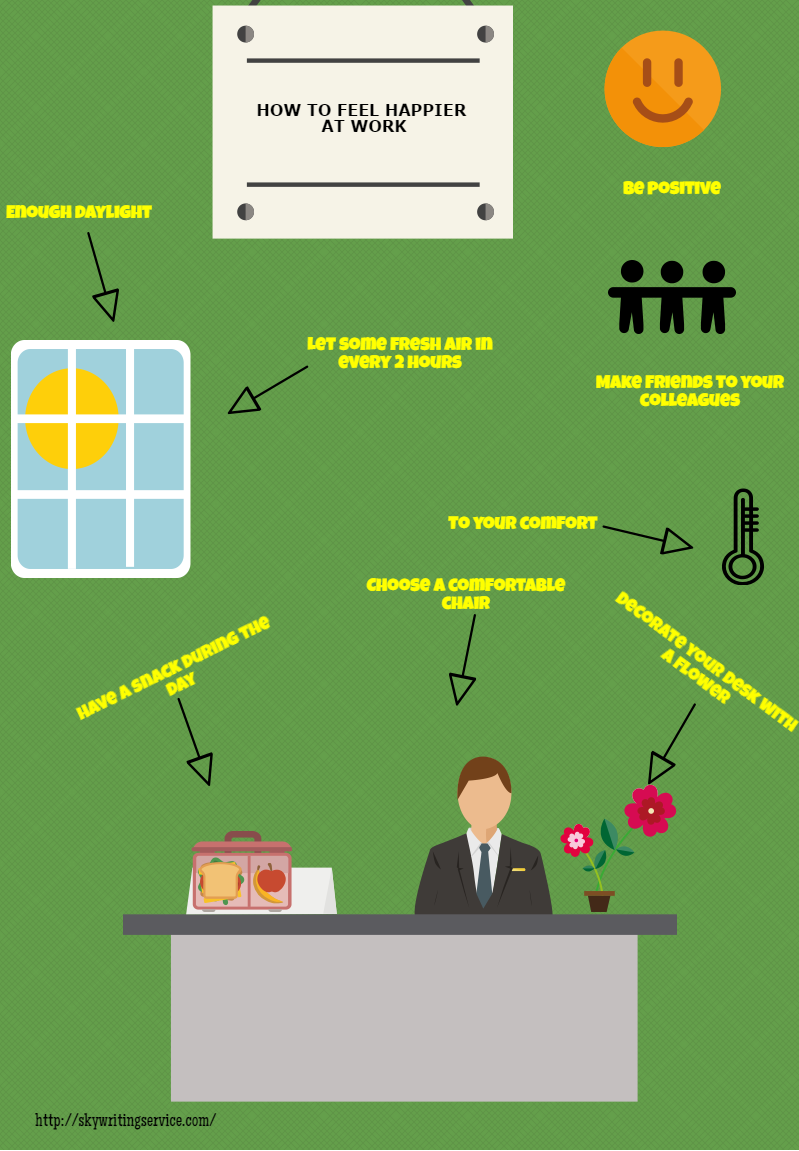 Here are 20 tips to feel happier at work:
Pay attention to your working desk. Decorate it with photos of your family members or the photos, where you feel yourself happy.

Choose a convenient chair, where you will feel cozy.

The monitor should be on the level of your eyes.

Decorate your office or your desk with plants and flowers. They will inspire your creativity.

If your occupation allows, listen to some music. It may improve your creativity and accelerate the working process.

There should be enough daylight in the room you are working in. It also influences the productivity of your work.

Ventilate your room every 2 hours, to fill it with fresh air. Your brain will work better if the fresh air is constantly being injected.

The temperature in the room should be up to your convenience. There should not be too hot or too cold.

People who you work with are very important. They may either make you unhappy, or make your working day happier and much better. In any case, try not to conflict at work.

 Make friends to your colleagues. It will help you to feel comfortable at work.

 Believe in yourself, as it will help you to achieve the best results.

 Try to determine the main purpose of your job. It will help you to set your priorities correctly.

 Try to be future oriented. Even if the your current job position is not what you really wanted, you should have an understanding why you are doing it now and for what purpose.

 Get in the habit to celebrate your success. It will serve as a motivation to achieve new goals.

Have a snack during the working day, take a cup of coffee or tea during the day. It will help you to concentrate and take a couple of minutes to relax your brain.

 Do some physical and eye exercises during the day. It will help you to recover and to warm your body up.

Order your lunch from the café or a restaurant at least once a weak. It will improve your mood and will diversify your working day.

Try to avoid stressful situations and do not take all the events at work too personally.

Have enough hours of sleep. It will help you to feel happier during the working day.

Try to be positive, showing good mood. Even if it is not good, try to pretend and you will see how significantly your mood can change.
Following these simple tips, you can really make you happier at work, and more positive about the things you do. If you follow our tips, your working day will bring you joy and happiness, instead of depression and bad mood. So, now you know what to do, to make your working day much better. If you are happy and positive, your work will be much more productive and creative!