Sauce, according to Wikipedia, is a liquid seasoning, which is fed to the main course. Sauces are known from immemorial time, while first ones appeared in the ancient kitchen. The ancient Romans were proud of their garum - liquid seasoning made from vinegar and fish: mackerel or tuna were held in the sun for a few months, then boiled and added vinegar to fish base, as well as salt, pepper, olive oil and wine.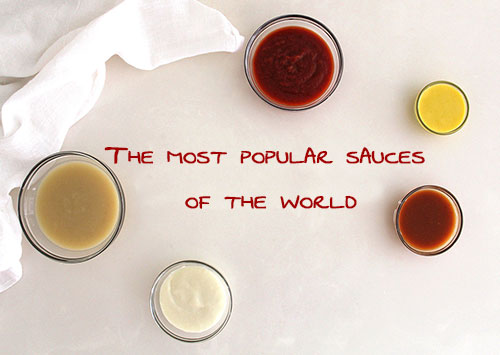 Any sauce consists of a liquid base (fish, meat, mushroom, vegetable broth, cream, milk, sour cream) and a filler (additional ingredients) - egg yolks, vegetables, fruits, spices, fragrant herbs. The filler can be prepared with or without flour. The consistency of all gravies are divided into liquid and dense (the so-called dips). The sauces are being added wine, cheese, crushed nuts, honey. Flour, corn starch and potato starch are usually used to thicken the gravy.
Today, there have been invented so many recipes of sauces, that their number almost does not exceed the amount of food, for which they are intended. Onion Soubise, basil pesto, tomato satsebeli, milk béchamel, plum tkemali, cranberry Cumberland. We are eager to share the recipes of the most popular sauces with you.
Béchamel sauce (France)
Eaten with: fish, seafood, meat, vegetables, lasagna, moussaka.
You will need: 30 grams of butter, 2 tablespoons of flour, 600 ml milk, salt to taste, nutmeg and white (or black) pepper as desired.
Melt the butter in a large saucepan over low heat. Add the flour, stir well to obtain a homogeneous slurry, and, continuing to stir, cook about 2-3 minutes. Flour should be only slightly browned, to get cream (but not golden) color. Then slowly pour in the milk, continuing to stir to avoid formation of lumps, let boil, reduce heat and simmer until thick (about half an hour). At the end, add some salt. Ready sauce should be strained into a clean container. If desired, season with white pepper and nutmeg.
There are many variations of the French milk sauce. Béchamel is prepared with mixed broth (meat or vegetable - for vegetarian dishes) with cream, Dijon mustard, grated cheese, onions, shallots and mushrooms. The simplicity of ingredients and the ease of preparation make this sauce one of the most popular ones. However, we shouldn't forget that it is also pretty high in callories..
 Pesto sauce (Italy)
Eaten with: toasts, pasta, spaghetti, lasagna, rice, mashed potatoes, meat and fish dishes.
You will need: 100 ml extra virgin olive oil, a bunch of green basil, 2 cloves of garlic, 50 g of parmesan, 50 g of pine nuts, juice of half a lemon.
Wash basil, dry and chop finely. Chop garlic and grate cheese. Cheese, basil and garlic should be mixed and grinded in a mortar. You can certainly use the blender or food processor, but it is better to do everything manually, using good old-fashioned mortar and a wooden pestle. Slowly pouring the olive oil, continue to rub ingredients. Then add salt and lemon juice. The sauce is ready.
Advantages of pesto is that the process of cooking is very simple. You do not need to do anything: to fry or cook. Pesto is prepared with sun dried tomatoes, this sauce is an excellent alternative to tomato filling pizza, the perfect addition to baked in the oven or grilled vegetables.
 Cranberry sauce (Sweden)
Eaten with: casseroles, meat and poultry.
You need: 500 g of fresh cranberries, 1 liter of water, 100 ml of  red wine, 10 g of starch, 200 g of sugar, cinnamon.
Rinse cranberries and fill with water. Let it boil, then drain the broth, and the berries through a sieve or grind in a blender to the smooth consistency of the sauce. Mix cranberries with sugar, cinnamon, wine, add a little broth and boil for 5 minutes. Stir starch in the remaining broth, pour it into a berry mixture, let boil and remove from heat.
Cranberry sauce is easy to cook. In addition, it is high in vitamins. Its sweet and sour taste creates a wonderful harmony with dishes from red meat. Ready made jam can also be the basis of the sauce. You can also improve its taste with lemon juice, orange, cognac, spices - cayenne pepper, ginger and dry English mustard. These ingredients can make your sauce extraordinary.
 Tartar sauce (France)
Eaten with: fish (boiled, fried and baked), seafood, vegetables, meats, eggs, cold roast.
You will need: 2 raw egg yolks, 2 boiled eggs, 120 grams of refined vegetable oil, 120 g of sour cream, 40 grams of pickled mushrooms, 1 tablespoon of finely chopped green onions, 40 g of mustard, 1 pickled cucumber, sugar, vinegar (or lemon juice) salt to taste.
Hard-boiled eggs should be cleaned from the shell. Separate the whites from the yolks, finely grate the yolks and mash in a bowl with mustard and raw egg yolks. Pour a thin stream of oil (process of preparing the classic tartare is very similar to the preparation of homemade mayonnaise technology). Mix pickles and pickled mushrooms (it is important to cut them into small cubes) with green onion, sour cream, and egg mass. Stir well, season with salt, add the sugar, vinegar (or lemon juice) to taste.
In the tartar sauce you can also add capers, gherkins, garlic, parsley and dill, and use a ready made mayonnaise.
Hollandaise sauce (France)
Eaten with: seafood and boiled vegetables (asparagus, zucchini, artichokes, different kinds of cabbage).
You will need: half a pack of butter, 3 egg yolks, juice of half a lemon, freshly ground white pepper, salt and a pinch of cayenne pepper.
Melt butter in a skillet and cool to room temperature. In a large pot, pour water, and when it boils, reduce your heat to low, and put a glass or ceramic bowl on top (i.e. the need to "build" a water bath) to place the egg yolks. Add the lemon juice, stir well and beat the yolks with lemon juice with a mixer. When the mass becomes fluffy (about 5 minutes), continue to whisk, gradually adding a thin stream of the cooled melted butter. When the sauce thickens, add salt and pepper to taste, and beat another half a minute. Ready sauce should be served immediately.
The Guacamole sauce (Mexico)
Eaten with: corn chips, breads, Mexican cuisine.
You will need: 2 avocados, 1 tomato, 1 hot red pepper, 2 tablespoons of lemon juice (or lime juice), 1 tablespoon of finely chopped cilantro, 0.5 teaspoons of salt, half onion.
Wash vegetables. Peel and cut the avocado. Separate the flesh from the bone and mash with a fork, adding lemon juice, in order for it not to get dark. Chop the onions. Remove the seeds from the hot pepper and chop it. Cut tomato into small slices. Connect the pulp of avocado with cilantro, onions, hot peppers and tomatoes, season with salt and stir.
Guacamole is the national Mexican dish. In appearance, it is more like a snack, though the name of the dish is literally translated as "avocado sauce".
Designation of any sauce is to shade the taste of the main course, to emphasize its advantages and hide flaws. Even the most simple and uncomplicated culinary creation can become a delicious sauce and make a  unique and unrepeatable dish. Moreover, original sauces are simply irreplaceable at the festive table of. So, if you would like to experiment and to make your own tasty sauce, you are welcome! Good luck with your culinary experiments and bon appetite!